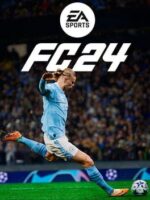 Game Genres: Simulator, Sport
Publishers: Electronic Arts
Themes: Non-fiction
Game Modes: Single player, Multiplayer, Co-operative
Player Perspectives: Third person, Bird view / Isometric
Game Engines: Frostbite
Languages: RUS/ENG/MULTI103
In EA Sports FC 24, players have the opportunity to immerse themselves in the world of professional football like never before. This ultimate football simulation game allows players to step into the shoes of their favorite stars and teams, experiencing the exhilaration of the world's biggest competitions.
As players progress, they can join the Club, becoming part of a new Football Club for the future of the sport. This game is not just about playing matches; it's about building something bigger together. Shape the future of football with your strategic decisions and skillful gameplay.
EA Sports FC 24 sets a new standard for football simulation games, offering a truly immersive and authentic experience for players. Whether you're a die-hard football fan or a casual player, this game will capture your passion for the beautiful game and keep you coming back for more. Lace up your boots, step onto the virtual pitch, and become a legend in EA Sports FC 24.
DOWNLOAD
Repack Features
Alternative CODEX/FAiRLiGHT/Goldberg cracks/emus located in the NoDVD folder after installation
At least 2 GB of free RAM (inc. virtual) required for installing this repack
100% Lossless & MD5 Perfect: all files are identical to originals after installation
Copy contents of "_Windows 7 Fix" folder to the game root to play on Windows 7
Due to using Windows 10/11 exclusive DirectStorage/GDeflate technologies installing this repack on older OSes is not supported
You may skip downloading and installing of the videofile, not used in-game
Selective Download feature: you may skip downloading and installing of 4K videos (1080p ones are included by default), optional videos (tutorials+ credits) and bonus content (OST + ArtBook)
Installation takes 2-3 minutes
Game version: v1.7.4
The game MUST be run as admin
Screenshots