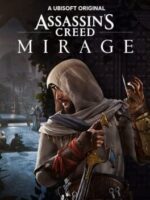 Game Genres: Adventure
Publishers: Ubisoft Entertainment
Themes: Action, Historical, Stealth, Open world
Game Modes: Single player
Player Perspectives: Third person
Languages: RUS/ENG/MULTI41
Assassin's Creed Mirage takes players on a mesmerizing journey through the vibrant city of Baghdad in the ninth century CE. This open-world action-adventure game immerses players in a historical setting where they can explore the bustling streets, interact with memorable characters, and uncover the secrets of a time when Baghdad was a hub of innovation, culture, and power.
After an act of deadly retribution, Basim's life takes an unexpected turn when he is recruited by an ancient organization known as The Hidden Ones. Guided by their enigmatic rituals and powerful tenets, Basim embarks on a transformative journey. As he hones his unique abilities, he gains a deeper understanding of his true nature and learns about a new Creed that will shape his destiny in unimaginable ways.
Players will have the opportunity to explore a meticulously recreated Baghdad, with its majestic palaces, bustling marketplaces, and hidden alleyways. From climbing towering minarets to engaging in heart-pounding rooftop chases, freedom of movement and fluidity are key components of gameplay. As Basim's skills progress, players can unlock a range of acrobatic maneuvers, combat techniques, and stealthy assassinations to overcome the challenges that lie ahead.
DOWNLOAD
Repack Features
If you see a black screen/other error upon launch, just close the game and run it again (may require more than 1 restart)
Make sure you have Visual Studio Redist 2019 Package installed before installing this repack
100% Lossless & MD5 Perfect: all files are identical to originals after installation
Due to using Windows 10/11 exclusive DirectStorage/GDeflate technologies installing this repack on older OSes is not supported
Repack uses XTool library by Razor12911
Selective Download feature: you may skip downloading and installing of 4K videos (1080p ones are included by default), optional videos (tutorials+ credits) and bonus content (OST + ArtBook)
After-install integrity check so you could make sure that everything installed properly
At least 2 GB of free RAM (inc. virtual) required for installing this repack
You may skip downloading and installing of the videofile, not used in-game
Copy contents of "_Windows 7 Fix" folder to the game root to play on Windows 7
Screenshots